WAYS TO GIVE:
3. TEXT – Text the amount you would like to contribute (include the dollar sign before the amount. Ex: $25) to 346-444-9456
5. BY CHECK – Write a check payable to Lord of Life Lutheran Church and mail to: 3801 S. Panther Creek Drive, The Woodlands, Texas 77381
SPECIAL WAYS TO GIVE:
1. HONORARIUMS AND MEMORIALS Make a one-time donation in honor or memory of a loved one.
2. GIVE STOCK OR MUTUAL FUNDS

Want to contribute? We have an app for that! Download GivePlus Church for free from the Apple App Store or Google Play. Simply search for "GivePlus Church" to quickly find and download the app. You can easily make donations directly from your smartphone using your debit/credit card and/or checking/savings account. Search for Lord of Life among the list of churches (be sure to pick the right one!).
You can also choose to donate as a guest, use your existing online giving email and password or set up a new account that allows you to securely and conveniently make a one time contribution, buy tickets to an event or schedule recurring donations. You can still use existing online and text giving capabilities if you prefer! We hope you enjoy this new way to contribute to our ministry, and thank you for your support.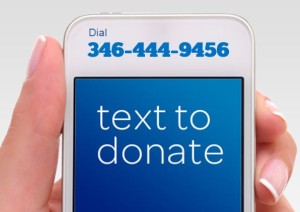 TEXT Donations
– You can make a contribution to Lord of Life Lutheran Church with a quick text message! Simply send a text to 346-444-9456 with the amount you would like to contribute. Make sure to include the dollar sign before the amount. Example: $25.
Within a few minutes, you'll be sent a text with a link to register. Click on the link and enter your cardholder name and credit or debit card information. Once your registration is complete, you will receive a text verification and a receipt via email. For future giving, simply send a text the amount you wish to give, and it will process automatically.
********************************************************************************************************************
Questions About Charitable Contributions By Richard Hammar, J.D., LL. M., CPA Christianity Today
If I make a contribution in early January 2019, can I claim it on my 2018 taxes? No, charitable contributions must be claimed in the year in which they are delivered.

Example: Mary writes a check to her church on December 31, 2018, and deposits it in the church offering on Sunday, January 5, 2019. Her check is not deductible on her 2018 taxes. She can claim it on her 2019 tax return.

If I mail my contribution in December 2018, but it doesn't reach my church until January 2019, for which year should I claim it? On your 2018 tax return. A check that is mailed to a charity is deductible in the year the check is mailed (and postmarked), even if it is received in the next year.

Example: Mary mails (and postmarks) her check in December 2018. Her church doesn't receive the check until January 2019. The check is deductible on Mary's 2018 tax return.

Can I deduct the value of volunteer work I did for the church? No, the value of personal services is never deductible as a charitable contribution. However, unreimbursed expenses you incur in performing services on behalf of a church or other charity may be.
I gave $135 to my church when I registered for a spring retreat.Can I deduct that? No, assuming you received benefits (e.g., lodging, instruction, materials) worth $135 or more. Charitable contributions generally are deductible only to the extent they exceed the value of the premium or benefit received by the donor in return for the contribution.
I designated my contribution to the church benevolence fund. Is it deductible? If you designate a gift to the benevolence fund or other approved project or program of the church, it is deductible, unless you specify that your contribution be applied to a named individual; then no deduction is allowed.

Thrivent Choice
Giving back makes an important impact in people's lives. Last year alone, Thrivent Financial provided more than $100 million to help congregations, communities and individuals in need. Members who own Thrivent Financial products help make this support possible.
Thrivent Choice lets you recommend where some of Thrivent Financial's charitable outreach funds go by directing Choice DollarsSM and by participating in Voting Events. See program details.
Use your MyThrivent user ID and password to log in and get started. If you aren't signed up yet, register now to participate in Choice DollarsSM and Voting Events.
PLEASE DESIGNATE LORD OF LIFE AS YOUR THRIVENT CHOICE
The gift planner, Liz Johnson, provides private consultation to help individuals and couples study options for end-of-life stewardship planning. If you have not made provision yet, a plan provides peace of mind and possible financial benefits. Please contact your stewardship chair, pastor, or the gift planner directly.