There are many things to celebrate here at Lord of Life. High on my list are your missions and outreach. Someone once said all churches decide, consciously or unconsciously, to be clubhouses or lighthouses. I'm pleased that Lord of Life is more lighthouse than clubhouse. Apparently, you agree. Of the top thirteen responses to the question, "If Lord of Life disappeared tomorrow, what would the community miss?" ten were missions or outreach. Second only to
Kids of the Kingdom
, was
Hands of Faith
.
Many of you are aware how big a fan I am of
Hands of Faith
because of its commitment to fair trade. My first stoles coming out of seminary were gifts purchased through fair trade. The fair trade stoles I now wear come from Guatemala. To me, it's all about our call to social justice and stewardship. Those who participate in fair trade, "promote safe, healthy working conditions, protect the environment, enable transparency, and empower communities to build strong, thriving businesses" (
http://fairtradeusa.org/what-is-fair-trade
). Additionally, fair trade is a partial answer to poverty, insures there was no child labor or forced labor in the production of products, and is committed to non-discrimination (See:
http://wfto.com/fair-trade/10-principles-fair-trade
).
There are dedicated followers of Jesus, committed to social justice and stewardship, whose understanding of scripture (especially Jesus scourging of the temple) raises questions whether a church building is an appropriate setting for a fair trade outlet. Here is the experience of one such member in his own words.
"I have been a member of Lord of Life for many years but I was not raised in a church family and have been favored gracefully in finding and understanding my faith. I read the Bible to broaden and enrich my faith and the stories captivated me. The brazen, rebellious and daring story of Jesus in the Temple overturning the tables and driving out the cattle was significant to me. I only wished to be so bold in faith as to affront hypocrisy and challenge the establishment with such abandonment. This story taught me that right is right and the integrity and solemnity of our worship should be upheld vigorously out of love and respect for the Father. This story in particular tempered my feelings.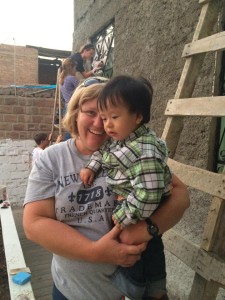 I was ok with buying a few bags of Fair Trade coffee now and then when it was offered on a table outside the fellowship hall. I'm sure I bought a few chocolate bars for the girls as well. I mentally categorized this as an act of charity. I never consciously rationalized it at the time, but it was a way to indulge myself in "Exotic" goods from a foreign land, to taste, smell and experience things from another culture that I had never been exposed to and likely never would experience otherwise. A novelty for me and my family and the belief that this would somehow benefit someone less fortunate in a distant land, well that's a "Fair Trade", right? Then, when the Fair Trade Store was first suggested at LOL I remember thinking they are taking this notion way too far. The commandeering of a teaching room and the establishment of a retail market in the Church was not the direction I thought we should be taking. A dedicated market place for these items exceeded my definition of charity. I remembered the story of Jesus in the Temple and could not reconcile this action by my Church with my understanding of what Jesus did in the Temple courts.
As often happens though, my understanding was challenged with a "Mission" trip to Peru.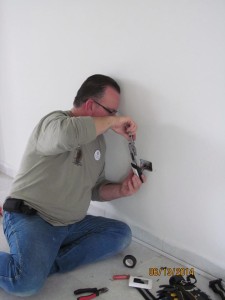 My family and I were blessed with the opportunity to visit our Brothers and Sisters in Filadelphia Church on the outskirts of Lima Peru. Our mission was to meet, establish relationships with and serve the people there. We were to check on the progress of their new library, evaluate the Sombrando preschool program and to explore other opportunities to support the ministry of Christ in that area. Beth Miller was a member of our party and part of her calling on this trip was to
look for Fair Trade opportunities. I watched as Beth meet with the women of Filadelphia and the artisan members of that congregation to discuss Fair Trade. I saw the faces of those" less fortunate people" of my earlier belief. I witnessed the emotions, the excitement of these people who could not believe that their efforts, their skill and their artistry could be a means of supplementing their existence. I participated in the negotiations with a young man who asked so little of his handiwork that the cost of materials was marginally covered by the price; it was what he was used to in selling his wares. I saw Beth and others evaluating products and commenting to the people on quality control and the return value of well made goods. We made a return trip to Peru later that year to follow-up on our previous efforts. I saw the development of and collaboration between the members of Filadelphia and their Fair Trade contributions. They were proud of their efforts; they had diligently worked to improve the quality of their wares and had encouraged
others in their community to participate. I saw the difference in the faces of the people. I saw the emergence of hope where before there was only faith. For me our "Mission" to Peru resulted in the congregation of Filadelphia serving me and my family more deeply and genuinely than any experience I could have imagined. In my mind now, we went there for their "Mission" to us. Not least was their service to my understanding of the Fair Trade ministry. My perceptions of the actions of Jesus in the Temple have evolved. His action was, as always, an act for humanity and fairness rather than an angered assault against profiteering and hypocrisy.
I wished then to be so bold in faith as to affront hypocrisy and challenge the establishment with abandonment. I think that the lessons about righteousness, integrity and the solemnity of worship are still valid. A vigorous love and respect for the Father are certainly commendable. But my narrow perspective then prevented me from seeing Jesus' motivation as I do now; the love of humanity was the motive for His actions.
I wish now to overcome my limited perceptions, to be bold in faith, to seek fairness and to act for humanity. Fair Trade markets are a step in that direction. " (George Eason, Lord of Life member since 1999, used with permission)
That is said so much better than I ever could.
Two things were necessary for worshipers in the temple at Passover: an appropriate animal sacrifice and Temple coins which local merchants would accept. Many travelled long distances to Jerusalem and were unable to bring their sacrifice or obtain appropriate currency elsewhere. Thus, the exchange of coins for animals or foreign currency for Temple coins was wholly compatible with the worship of God's people. But the particular money changers Jesus encountered were, in his words, a "den of robbers" charging exorbitant rates, and taking advantage of those who options were limited if they had any at all. Moreover, they interfered rather than facilitated the worship of God. Lutheran pastor, Edward F. Marquart, writes:
"We can easily visualize the money chargers, the oxen, sheep, pigeons and the general chaos in the Temple area, especially in the Court of the Gentiles. The historian Josephus informs us about the "bazaars of Annas." . . . This family made big money off the temple business. It was the biggest racket in town. People would bring their Roman and Greek coins with images of the emperor on those coins . . . In equivalent dollars of today, Annas had an annual $170 million dollar business going. Yes, Annas and his high priestly family, had the best and biggest business in the country, and it was concentrated in the temple. Josephus was right: the temple area had become a bazaar." (
http://www.sermonsfromseattle.com/series_b_the_cleansing_of_the_temple.htm
)
Hands of Faith seeks no profits. Nor does it interfere with worship. Instead, it helps fulfill God's desires: that we "do justice, love kindness and walk humbly with our God."
Grace & peace,
Pastor John
---