Our goal is to make disciples as Jesus commanded. We define discipleship as one who shares the faith, studies God's Word, actively worships, prays regularly, invites others to follow Christ alongside us, serves in the Name of Jesus, and engages in healthy fellowship.
Please seek me out if you have any ideas, and/or a willingness to serve.
Faith Formation Leader: Pastor David
Saturdays
MEN'S BREAKFAST meets at 7:30AM, the 2nd and 4th Saturdays of each month in the Fellowship Hall. Fellowship and faith stories are shared along with breakfast in the Fellowship Hall. Contact
Danny Craft
for more information, or just show up, to be part of this active and entertaining group of men.
Tuesdays
PASTOR'S BIBLE STUDY
Study the sermon text with the pastor at 11:30 in the conference room. Bring your lunch. Your insight might show up in Sunday's sermon!
The Common Table
A social ministry for seniors (55+).
More Info
Wednesdays (Sept. – May)
LADIES BIBLE STUDY
Library (Rm 21) at 9:45AM. Please come and don't forget to invite your friends. All ladies are invited to attend. Free childcare provided. September leader: Dan Fenn, Director of Worship & the Arts.
Bible Study will meet on Wednesday mornings, from 9:00 – 11:00 during the school year, Sept – May. Facilitated by Crystal Tucker, this group will meet in the Conference Room. Free Childcare. Resumes Wednesday, Sept. 11 with
Seamless by Angie Smith
THURSDAYS
Calling ALL DADS – DRAFT (Dads Refreshing And Fellowshiping Together). Meet at 8:00pm at
Gooses' Acre
on the Waterway on the 2nd Thursday of each month. Join us for beer and fellowship!
September 12
October 10
November 14
December 12
Sundays
Interested in Adult Sunday School? 9:45 – 10:45, upstairs. Childcare is available in our nursery.
BIBLE, CHRISTIANITY & YOU: Join us in the Library (Rm 21). "Mere Christianity" by C.S. Lewis starts Sunday, Sept. 15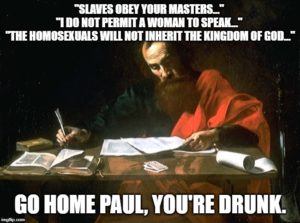 A new Adult Sunday morning class is starting this fall with short term classes and engaging topics. You are invited to come for a Sunday, a Series, or the Year. We will be meeting in the Fellowship hall starting September 15th. Our first topic will be:
"Paul Behaving Badly: What do we do when the Bible says something we don't believe?"
The words of the apostle Paul have been used as a source of inspiration and hope for hundreds of years to millions of Christians. They are foundational in Christian theology and are leaned on by Christians around the world. But what do we do when we come across a passage like "slaves obey your masters…?" or "I do not permit a woman to speak…?" or passages that have been used to harass the homosexual community. This 4-week class will examine some of these harder passages and take a look at the cultural context when they were written, the way churches have gotten them wrong, and what do we do with them today. Sunday mornings from September 15 – October 6 at 9:45am in the fellowship hall, led by Patrick Nazaroff.