Jan 21, 2018
Witness to the Light: Lutheran Campus Ministry – Rev. Janelle Hooper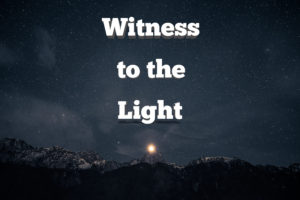 Gospel: Mark 1:14-20
Before Jesus calls his first disciples, he proclaims a message that becomes known as "the gospel" or good news from God. God is ready to rule our lives. Those who realize this will respond with repentance and faith.
14
Now after John was arrested, Jesus came to Galilee, proclaiming the good news of God,
15
and saying, "The time is fulfilled, and the kingdom of God has come near; repent, and believe in the good news."
16
As Jesus passed along the Sea of Galilee, he saw Simon and his brother Andrew casting a net into the sea—for they were fishermen.
17
And Jesus said to them, "Follow me and I will make you fish for people."
18
And immediately they left their nets and followed him.
19
As he went a little farther, he saw James son of Zebedee and his brother John, who were in their boat mending the nets.
20
Immediately he called them; and they left their father Zebedee in the boat with the hired men, and followed him.
Watch
Notes
Download
Date
Title
Jan 21, 2018

Witness to the Light: Lutheran Campus Ministry – Rev. Janelle Hooper

Jan 21, 2018

Witness to the Light: Lutheran Campus Ministry – Rev. Janelle Hooper

Gospel: Mark 1:14-20

Before Jesus calls his first disciples, he proclaims a message that becomes known as "the gospel" or good news from God. God is ready to rule our lives. Those who realize this will respond with repentance and faith. 14

Now after John was arrested, Jesus came to Galilee, proclaiming the good news of God,

15

and saying, "The time is fulfilled, and the kingdom of God has come near; repent, and believe in the good news."

16

As Jesus passed along the Sea of Galilee, he saw Simon and his brother Andrew casting a net into the sea—for they were fishermen.

17

And Jesus said to them, "Follow me and I will make you fish for people."

18

And immediately they left their nets and followed him.

19

As he went a little farther, he saw James son of Zebedee and his brother John, who were in their boat mending the nets.

20

Immediately he called them; and they left their father Zebedee in the boat with the hired men, and followed him.

Jan 14, 2018

Witness to the Light: Interfaith of the Woodlands – Executive Director, Missy Herndon

Jan 14, 2018

Witness to the Light: Interfaith of the Woodlands – Executive Director, Missy Herndon

Gospel: John 1:43-51

In John's gospel, Jesus' ministry begins with the call of disciples, who then bring others to Jesus. Philip's friend Nathanael moves from skepticism to faith when he accepts the invitation to "Come and see." 43

The next day Jesus decided to go to Galilee. He found Philip and said to him, "Follow me."

44

Now Philip was from Bethsaida, the city of Andrew and Peter.

45

Philip found Nathanael and said to him, "We have found him about whom Moses in the law and also the prophets wrote, Jesus son of Joseph from Nazareth."

46

Nathanael said to him, "Can anything good come out of Nazareth?" Philip said to him, "Come and see."

47

When Jesus saw Nathanael coming toward him, he said of him, "Here is truly an Israelite in whom there is no deceit!"

48

Nathanael asked him, "Where did you get to know me?" Jesus answered, "I saw you under the fig tree before Philip called you."

49

Nathanael replied, "Rabbi, you are the Son of God! You are the King of Israel!"

50

Jesus answered, "Do you believe because I told you that I saw you under the fig tree? You will see greater things than these."

51

And he said to him, "Very truly, I tell you, you will see heaven opened and the angels of God ascending and descending upon the Son of Man."

Jan 7, 2018

Witnesses To The Light

Jan 7, 2018

Witnesses To The Light

Gospel: Matthew 2:1-12

God's promise shines bright in the night as magi follow a star to honor a new king. Strangers from a faraway land, they welcome the long-awaited messiah of Israel. 1

In the time of King Herod, after Jesus was born in Bethlehem of Judea, wise men from the East came to Jerusalem,

2

asking, "Where is the child who has been born king of the Jews? For we observed his star at its rising, and have come to pay him homage."

3

When King Herod heard this, he was frightened, and all Jerusalem with him;

4

and calling together all the chief priests and scribes of the people, he inquired of them where the Messiah was to be born.

5

They told him, "In Bethlehem of Judea; for so it has been written by the prophet:

6

'And you, Bethlehem, in the land of Judah, are by no means least among the rulers of Judah; for from you shall come a ruler who is to shepherd my people Israel.' "

7

Then Herod secretly called for the wise men and learned from them the exact time when the star had appeared.

8

Then he sent them to Bethlehem, saying, "Go and search diligently for the child; and when you have found him, bring me word so that I may also go and pay him homage."

9

When they had heard the king, they set out; and there, ahead of them, went the star that they had seen at its rising, until it stopped over the place where the child was.

10

When they saw that the star had stopped, they were overwhelmed with joy.

11

On entering the house, they saw the child with Mary his mother; and they knelt down and paid him homage. Then, opening their treasure chests, they offered him gifts of gold, frankincense, and myrrh.

12

And having been warned in a dream not to return to Herod, they left for their own country by another road.

Dec 31, 2017

A Christmas Visit From Martin Luther

Dec 31, 2017

A Christmas Visit From Martin Luther

Gospel: Luke 2:1-14

God's greatest gift comes as a baby in a manger. Angels announce the "good news of great joy" and proclaim God's blessing of peace.

1In those days a decree went out from Emperor Augustus that all the world should be registered. 2This was the first registration and was taken while Quirinius was governor of Syria. 3All went to their own towns to be registered. 4Joseph also went from the town of Nazareth in Galilee to Judea, to the city of David called Bethlehem, because he was descended from the house and family of David. 5He went to be registered with Mary, to whom he was engaged and who was expecting a child. 6While they were there, the time came for her to deliver her child. 7And she gave birth to her firstborn son and wrapped him in bands of cloth, and laid him in a manger, because there was no place for them in the inn. 8In that region there were shepherds living in the fields, keeping watch over their flock by night. 9Then an angel of the Lord stood before them, and the glory of the Lord shone around them, and they were terrified. 10But the angel said to them, "Do not be afraid; for see—I am bringing you good news of great joy for all the people: 11to you is born this day in the city of David a Savior, who is the Messiah, the Lord. 12This will be a sign for you: you will find a child wrapped in bands of cloth and lying in a manger." 13And suddenly there was with the angel a multitude of the heavenly host, praising God and saying, 14"Glory to God in the highest heaven, and on earth peace among those whom he favors!"

Dec 24, 2017

Unexpected and Mysterious Grace and Peace

Dec 24, 2017

Unexpected and Mysterious Grace and Peace

Gospel: Luke 2:1-14 [15-20]

God's greatest gift comes as a baby in a manger. Angels announce the "good news of great joy" and proclaim God's blessing of peace.

1In those days a decree went out from Emperor Augustus that all the world should be registered. 2This was the first registration and was taken while Quirinius was governor of Syria. 3All went to their own towns to be registered. 4Joseph also went from the town of Nazareth in Galilee to Judea, to the city of David called Bethlehem, because he was descended from the house and family of David. 5He went to be registered with Mary, to whom he was engaged and who was expecting a child. 6While they were there, the time came for her to deliver her child. 7And she gave birth to her firstborn son and wrapped him in bands of cloth, and laid him in a manger, because there was no place for them in the inn. 8In that region there were shepherds living in the fields, keeping watch over their flock by night. 9Then an angel of the Lord stood before them, and the glory of the Lord shone around them, and they were terrified. 10But the angel said to them, "Do not be afraid; for see—I am bringing you good news of great joy for all the people: 11to you is born this day in the city of David a Savior, who is the Messiah, the Lord. 12This will be a sign for you: you will find a child wrapped in bands of cloth and lying in a manger." 13And suddenly there was with the angel a multitude of the heavenly host, praising God and saying, 14"Glory to God in the highest heaven, and on earth peace among those whom he favors!" [ 15When the angels had left them and gone into heaven, the shepherds said to one another, "Let us go now to Bethlehem and see this thing that has taken place, which the Lord has made known to us." 16So they went with haste and found Mary and Joseph, and the child lying in the manger. 17When they saw this, they made known what had been told them about this child; 18and all who heard it were amazed at what the shepherds told them. 19But Mary treasured all these words and pondered them in her heart. 20The shepherds returned, glorifying and praising God for all they had heard and seen, as it had been told them.]