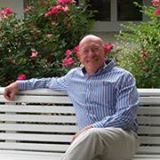 Dear Sisters and Brothers in Christ,
When I accepted your call to be your Senior Pastor in 2010, I committed to being with you for 10 years. Those 10 years have gone by quickly! We have had some exciting, highly productive, challenging times. I hope you have grown as much as Emily and I have by our time together!
And now it's time for me to retire. My last Sunday with you will be November 8, 2020. That gives us nearly three months to have the conversations we need to have with each other, and to make sure ministries are well transitioned for the interim, in-between time you will be entering as a congregation.
This interim time is an important time, not to be rushed. Rest assured that there is a good road map for interim times, provided by our Gulf Coast Synod. Your leadership is already studying the process and is reading a book called "A Change of Pastors" to help them prepare for this interim time of guiding you, along with a well-trained Interim Senior Pastor, in assessing where Lord of Life has been over the past 10 years, what God is calling of you as you face the future, and what pastoral leadership you need to move into that future. I encourage you to make good use of this time.
Normally it takes a time of dust settling before the Interim Senior Pastor arrives – probably at the beginning of January. In the meantime, Pastor David, Rev. Tammy Fincher, and other staff will be leading you in an interesting and creative "COVID" Advent and Christm
as Season.
We are hosting three Congregational Informational Zoom Meetings in which you will hear about the interim process, our plans for reopening the building, and our financial condition at this point in the year.
The dates for these meetings:
Sunday, August 23, 5 PM
Tuesday, August 25, 5 PM
Tuesday, August 25, 7 PM
Look for an email invitation in The Happenings on Thursday, and please pick one of these times to join in the conversation with council president Chuck Hoffheiser, finance manager Brian Dawson, and me. You will be able to ask any questions about these three subjects.
Emily and I feel so blessed by our time with you precious, creative, passionate, committed and fun-loving people. We will miss you and the incredible life and ministry of Lord of Life. But we leave knowing you are in good hands – the hands of our Lord and the hands of some excellent congregational leaders and staff. And while pastors are a part of the leadership team, it's still your mission and vision, fueled by the Holy Spirit, that drive this place.
We will have more time to share what has taken place in these 10 years, and the meaning of this time we have been privileged to share, as you begin thinking about what's next.
Grace and Peace,
And much love and affection for you all,
---