We pause for this brief message…
Ponderings from the preacher
How then shall we talk to each other?
Speaking the truth in love, we are to grow up in every way into him who is the head, into Christ… Ephesians 4:15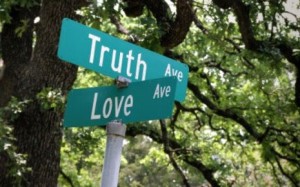 Several years ago, a couple came into my counseling office, referred by their pastor. After 26 years of seemingly happy marriage, the lid had blown off their relationship right in the choir room after worship. All sorts of things they had never spoken to each other came out right in public, as other choir members were carefully, discreetly walking around them to put away their robes. Words of resentment, anger, distrust, blaming, threats of divorce… hurtful words coming from both of them as they threw at one another past errors, omissions, and sins committed in the course of their 26 years. Someone ran and fetched the pastor, who was greeting people at the door after church. She got them to her office for some privacy while she finished greeting people so she could sit down with them. After two painful hours of pouring out their hurts, their pastor called me to set up an appointment. Two days later, they began a slow process of healing and learning how to have a happier life together. With God's help, several sessions and support of friends at church, they succeeded in having a happier marriage than they had ever had before.
But, you may ask, what happened that led to such an explosive, horrendous episode? Both such good, caring people, overcommitted at work, church, coaching of their children's soccer teams, dealing with the normal stresses of their teen children, they had lost track of each other, their own selves, and God. They found they had been avoiding conflicts for years by just walking around them, putting up with things to avoid the discomfort of disagreement, and as a result, never resolving longstanding issues.
In stressful times, we can all revert to old unhealthy patterns of communication we have learned where we came from – in our families, in our schools, our churches even! And we lose track of the promise of Jesus of life abundant – good, satisfying, fulfilling.
The good news is that there are ways to restore relationships that are broken. In the death and resurrection of our Lord Jesus Christ, we are being set free from bondage to old unhealthy patterns rooted in fear, resentment, and distrust. We are being set free to find in our relationships what God promises, and what Jesus died to give us – life that is good, joyful, healthy, whole. Brimming not with hostility hurt and resentment, but with loving, supportive and encouraging words and actions toward one another! And that can be when we trust God to help us "speak the truth in love", both the positive and negative stuff we need to say to each other, so that we can grow up in every way into him who is the head, into Christ!
Grace and Peace, Pastor Gary
---