Nov 11, 2015
This, too, shall pass.
[caption id="attachment_6730" align="alignleft" width="300"]
King Herods temple at it's glory[/caption] Mark 13:1-13  The Message (MSG)
Doomsday Deceivers
13 As he walked away from the Temple, one of his disciples said, "Teacher, look at that stonework! Those buildings!"
2 Jesus said, "You're impressed by this grandiose architecture? There's not a stone in the whole works that is not going to end up in a heap of rubble." 3-4 Later, as he was sitting on Mount Olives in full view of the Temple, Peter, James, John, and Andrew got him off by himself and asked, "Tell us, when is this going to happen? What sign will we get that things are coming to a head?" [caption id="attachment_6729" align="alignleft" width="300"]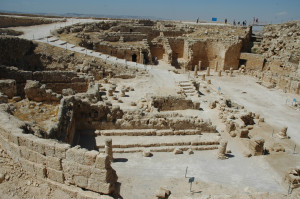 Ruins of king herods temple[/caption] 5-8 Jesus began, "Watch out for doomsday deceivers. Many leaders are going to show up with forged identities claiming, 'I'm the One.' They will deceive a lot of people. When you hear of wars and rumored wars, keep your head and don't panic. This is routine history, and no sign of the end. Nation will fight nation and ruler fight ruler, over and over. Earthquakes will occur in various places. There will be famines. But these things are nothing compared to what's coming. 9-10 "And watch out! They're going to drag you into court. And then it will go from bad to worse, dog-eat-dog, everyone at your throat because you carry my name. You're placed there as sentinels to truth. The Message has to be preached all across the world. 11 "When they bring you, betrayed, into court, don't worry about what you'll say. When the time comes, say what's on your heart—the Holy Spirit will make his witness in and through you. 12-13 "It's going to be brother killing brother, father killing child, children killing parents. There's no telling who will hate you because of me. "Stay with it—that's what is required. Stay with it to the end. You won't be sorry; you'll be saved.
Watch
Notes
Download
Date
Title
Nov 11, 2015

This, too, shall pass.

Nov 11, 2015

This, too, shall pass.

[caption id="attachment_6730" align="alignleft" width="300"]

King Herods temple at it's glory[/caption] Mark 13:1-13  The Message (MSG)

Doomsday Deceivers

13 As he walked away from the Temple, one of his disciples said, "Teacher, look at that stonework! Those buildings!"

2 Jesus said, "You're impressed by this grandiose architecture? There's not a stone in the whole works that is not going to end up in a heap of rubble." 3-4 Later, as he was sitting on Mount Olives in full view of the Temple, Peter, James, John, and Andrew got him off by himself and asked, "Tell us, when is this going to happen? What sign will we get that things are coming to a head?" [caption id="attachment_6729" align="alignleft" width="300"]

Ruins of king herods temple[/caption] 5-8 Jesus began, "Watch out for doomsday deceivers. Many leaders are going to show up with forged identities claiming, 'I'm the One.' They will deceive a lot of people. When you hear of wars and rumored wars, keep your head and don't panic. This is routine history, and no sign of the end. Nation will fight nation and ruler fight ruler, over and over. Earthquakes will occur in various places. There will be famines. But these things are nothing compared to what's coming. 9-10 "And watch out! They're going to drag you into court. And then it will go from bad to worse, dog-eat-dog, everyone at your throat because you carry my name. You're placed there as sentinels to truth. The Message has to be preached all across the world. 11 "When they bring you, betrayed, into court, don't worry about what you'll say. When the time comes, say what's on your heart—the Holy Spirit will make his witness in and through you. 12-13 "It's going to be brother killing brother, father killing child, children killing parents. There's no telling who will hate you because of me. "Stay with it—that's what is required. Stay with it to the end. You won't be sorry; you'll be saved.

Nov 8, 2015

The Widows

Nov 8, 2015

The Widows

Widows are visible everywhere in today's readings. Jesus denounces those scribes who pray impressive prayers but devour widows' houses. He commends the poor widow who in his view gave far more than the major donors. Jesus doesn't see her simply as an object of compassion or charity. She, like the widow of Zarephath who shares her last bit of food with Elijah, does something of great importance.

1 Kings 17:8-16 (NIV) 8 Then the word of the Lord came to him: 9 "Go at once to Zarephath in the region of Sidon and stay there. I have directed a widow there to supply you with food." 10 So he went to Zarephath. When he came to the town gate, a widow was there gathering sticks. He called to her and asked, "Would you bring me a little water in a jar so I may have a drink?" 11 As she was going to get it, he called, "And bring me, please, a piece of bread." 12 "As surely as the Lord your God lives," she replied, "I don't have any bread—only a handful of flour in a jar and a little olive oil in a jug. I am gathering a few sticks to take home and make a meal for myself and my son, that we may eat it—and die." 13 Elijah said to her, "Don't be afraid. Go home and do as you have said. But first make a small loaf of bread for me from what you have and bring it to me, and then make something for yourself and your son. 14 For this is what the Lord, the God of Israel, says: 'The jar of flour will not be used up and the jug of oil will not run dry until the day the Lord sends rain on the land.'" 15 She went away and did as Elijah had told her. So there was food every day for Elijah and for the woman and her family. 16 For the jar of flour was not used up and the jug of oil did not run dry, in keeping with the word of the Lord spoken by Elijah.

Mark 12:38-44

 (MSG)

38-40 He continued teaching. "Watch out for the religion scholars. They love to walk around in academic gowns, preening in the radiance of public flattery, basking in prominent positions, sitting at the head table at every church function. And all the time they are exploiting the weak and helpless. The longer their prayers, the worse they get. But they'll pay for it in the end." 41-44 Sitting across from the offering box, he was observing how the crowd tossed money in for the collection. Many of the rich were making large contributions. One poor widow came up and put in two small coins—a measly two cents. Jesus called his disciples over and said, "The truth is that this poor widow gave more to the collection than all the others put together. All the others gave what they'll never miss; she gave extravagantly what she couldn't afford—she gave her all."

Nov 1, 2015

All Saints Sunday

Nov 1, 2015

All Saints Sunday

Remembrance of All Saints

Blessed be the God and Father of our Lord Jesus Christ, the source of all mercy and the God of all consolation, who comforts us in all our sorrows, so that we can comfort others in their sorrows with the consolation we ourselves have received from God. Christ says, Take my yoke upon you, and learn from me; for I am gentle and humble in heart, and you will find rest for your souls. For my yoke is easy, and my burden is light. And you will find rest for your souls. 3 O God, we give you thanks for all the saints. We remember especially those who now rest in your peace: Oren Dameron Marian Fricke Betty Othold David Spotswood Anne Upham Elsie Vogrig Keep us in union with them to the joyous feast of heaven; through Jesus Christ, our Savior and Lord. Amen.

Oct 25, 2015

Five Practices of a Fruitful Congregation: Extravagent Generosity

Oct 25, 2015

Five Practices of a Fruitful Congregation: Extravagent Generosity

Oct 18, 2015

Five practices of a Fruitful Congregation: Risk-Taking Mission and Service

Oct 18, 2015

Five practices of a Fruitful Congregation: Risk-Taking Mission and Service

Twenty-First Sunday after Pentecost October 18, 2015

Luke 10:25-37

The Parable of the Good Samaritan

25 On one occasion an expert in the law stood up to test Jesus. "Teacher," he asked, "what must I do to inherit eternal life?" 26 "What is written in the Law?" he replied.

"How do you read it?"

27 He answered, "'Love the Lord your God with all your heart and with all your soul and with all your strength and with all your mind'[a]; and, 'Love your neighbor as yourself.'[b]" 28 "You have answered correctly," Jesus replied.

"Do this and you will live."

29 But he wanted to justify himself, so he asked Jesus, "And who is my neighbor?" 30 In reply Jesus said:

"A man was going down from Jerusalem to Jericho, when he was attacked by robbers. They stripped him of his clothes, beat him and went away, leaving him half dead.

31 A priest happened to be going down the same road, and when he saw the man, he passed by on the other side. 32 So too, a Levite, when he came to the place and saw him, passed by on the other side. 33 But a Samaritan, as he traveled, came where the man was; and when he saw him, he took pity on him. 34 He went to him and bandaged his wounds, pouring on oil and wine. Then he put the man on his own donkey, brought him to an inn and took care of him. 35 The next day he took out two denarii[c] and gave them to the innkeeper. 'Look after him,' he said, 'and when I return, I will reimburse you for any extra expense you may have.' 36 "Which of these three do you think was a neighbor to the man who fell into the hands of robbers?" 37 The expert in the law replied, "The one who had mercy on him." Jesus told him,

"Go and do likewise."