Dec 11, 2016
What Did You Expect?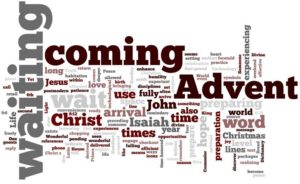 Gospel: Matthew 11:2-11
John the Baptist expects the Messiah to bring God's judgment upon the earth. From a prison cell, he wonders whether Jesus is the one who will do this.
2
When John heard in prison what the Messiah was doing, he sent word by his disciples
3
and said to him, "Are you the one who is to come, or are we to wait for another?"
4
Jesus answered them, "Go and tell John what you hear and see:
5
the blind receive their sight, the lame walk, the lepers are cleansed, the deaf hear, the dead are raised, and the poor have good news brought to them.
6
And blessed is anyone who takes no offense at me."
7
As they went away, Jesus began to speak to the crowds about John: "What did you go out into the wilderness to look at? A reed shaken by the wind?
8
What then did you go out to see? Someone dressed in soft robes? Look, those who wear soft robes are in royal palaces.
9
What then did you go out to see? A prophet? Yes, I tell you, and more than a prophet.
10
This is the one about whom it is written, 'See, I am sending my messenger ahead of you, who will prepare your way before you.'
11
Truly I tell you, among those born of women no one has arisen greater than John the Baptist; yet the least in the kingdom of heaven is greater than he."
Watch
Notes
Download
Date
Title
Dec 11, 2016

What Did You Expect?

Dec 11, 2016

What Did You Expect?

Gospel: Matthew 11:2-11

John the Baptist expects the Messiah to bring God's judgment upon the earth. From a prison cell, he wonders whether Jesus is the one who will do this. 2

When John heard in prison what the Messiah was doing, he sent word by his disciples

3

and said to him, "Are you the one who is to come, or are we to wait for another?"

4

Jesus answered them, "Go and tell John what you hear and see:

5

the blind receive their sight, the lame walk, the lepers are cleansed, the deaf hear, the dead are raised, and the poor have good news brought to them.

6

And blessed is anyone who takes no offense at me."

7

As they went away, Jesus began to speak to the crowds about John: "What did you go out into the wilderness to look at? A reed shaken by the wind?

8

What then did you go out to see? Someone dressed in soft robes? Look, those who wear soft robes are in royal palaces.

9

What then did you go out to see? A prophet? Yes, I tell you, and more than a prophet.

10

This is the one about whom it is written, 'See, I am sending my messenger ahead of you, who will prepare your way before you.'

11

Truly I tell you, among those born of women no one has arisen greater than John the Baptist; yet the least in the kingdom of heaven is greater than he."

Dec 4, 2016

Of Locusts and Cotton Candy

Dec 4, 2016

Of Locusts and Cotton Candy

Gospel: Matthew 3:1-12

Just before Jesus begins his public ministry, John the Baptist appears, calling people to mend their ways and speaking of a powerful one who is to come. 1

In those days John the Baptist appeared in the wilderness of Judea, proclaiming,

2

"Repent, for the kingdom of heaven has come near."

3

This is the one of whom the prophet Isaiah spoke when he said, "The voice of one crying out in the wilderness: 'Prepare the way of the Lord, make his paths straight.' "

4

Now John wore clothing of camel's hair with a leather belt around his waist, and his food was locusts and wild honey.

5

Then the people of Jerusalem and all Judea were going out to him, and all the region along the Jordan,

6

and they were baptized by him in the river Jordan, confessing their sins.

7

But when he saw many Pharisees and Sadducees coming for baptism, he said to them, "You brood of vipers! Who warned you to flee from the wrath to come?

8

Bear fruit worthy of repentance.

9

Do not presume to say to yourselves, 'We have Abraham as our ancestor'; for I tell you, God is able from these stones to raise up children to Abraham.

10

Even now the ax is lying at the root of the trees; every tree therefore that does not bear good fruit is cut down and thrown into the fire.

11

"I baptize you with water for repentance, but one who is more powerful than I is coming after me; I am not worthy to carry his sandals. He will baptize you with the Holy Spirit and fire.

12

His winnowing fork is in his hand, and he will clear his threshing floor and will gather his wheat into the granary; but the chaff he will burn with unquenchable fire."

Nov 27, 2016

It's STILL A Wonderful Life

Nov 27, 2016

It's STILL A Wonderful Life

Gospel: Matthew 24:36-44

Jesus describes his second coming as a sudden, unexpected event that will bring salvation or judgment upon people caught up in the usual affairs of daily life. He urges people to be alert and expectant.

[Jesus said to the disciples,]

36

"About that day and hour no one knows, neither the angels of heaven, nor the Son, but only the Father.

37

For as the days of Noah were, so will be the coming of the Son of Man.

38

For as in those days before the flood they were eating and drinking, marrying and giving in marriage, until the day Noah entered the ark,

39

and they knew nothing until the flood came and swept them all away, so too will be the coming of the Son of Man.

40

Then two will be in the field; one will be taken and one will be left.

41

Two women will be grinding meal together; one will be taken and one will be left.

42

Keep awake therefore, for you do not know on what day your Lord is coming.

43

But understand this: if the owner of the house had known in what part of the night the thief was coming, he would have stayed awake and would not have let his house be broken into.

44

Therefore you also must be ready, for the Son of Man is coming at an unexpected hour."

Nov 20, 2016

In Him All Things Hold Together

Nov 20, 2016

In Him All Things Hold Together

Gospel: Luke 23:33-43

Amid scoffing and slander from those who sarcastically call him Messiah and king, Jesus reveals that to be Messiah and king is to give one's life for others. Here he uses his power to welcome a despised sinner to paradise but puts his own death into God's hands.

33When they came to the place that is called The Skull, they crucified Jesus there with the criminals, one on his right and one on his left. 34⟦Then Jesus said, "Father, forgive them; for they do not know what they are doing."⟧ And they cast lots to divide his clothing. 35And the people stood by, watching; but the leaders scoffed at him, saying, "He saved others; let him save himself if he is the Messiah of God, his chosen one!" 36The soldiers also mocked him, coming up and offering him sour wine, 37and saying, "If you are the King of the Jews, save yourself!" 38There was also an inscription over him, "This is the King of the Jews." 39One of the criminals who were hanged there kept deriding him and saying, "Are you not the Messiah? Save yourself and us!" 40But the other rebuked him, saying, "Do you not fear God, since you are under the same sentence of condemnation? 41And we indeed have been condemned justly, for we are getting what we deserve for our deeds, but this man has done nothing wrong." 42Then he said, "Jesus, remember me when you come into your kingdom." 43He replied, "Truly I tell you, today you will be with me in Paradise."

Nov 13, 2016

Embracing Our Identity

Nov 13, 2016

Embracing Our Identity

Gospel: Luke 21:5-19

As history moves toward God's fulfillment there will be frightening signs and events. Before the end, believers will draw strength from their relationship to God and shall be given the words they need to testify and to endure without fear. 5

When some were speaking about the temple, how it was adorned with beautiful stones and gifts dedicated to God, [Jesus] said,

6

"As for these things that you see, the days will come when not one stone will be left upon another; all will be thrown down."

7

They asked him, "Teacher, when will this be, and what will be the sign that this is about to take place?"

8

And he said, "Beware that you are not led astray; for many will come in my name and say, 'I am he!' and, 'The time is near!' Do not go after them.

9

"When you hear of wars and insurrections, do not be terrified; for these things must take place first, but the end will not follow immediately."

10

Then he said to them, "Nation will rise against nation, and kingdom against kingdom;

11

there will be great earthquakes, and in various places famines and plagues; and there will be dreadful portents and great signs from heaven.

12

"But before all this occurs, they will arrest you and persecute you; they will hand you over to synagogues and prisons, and you will be brought before kings and governors because of my name.

13

This will give you an opportunity to testify.

14

So make up your minds not to prepare your defense in advance;

15

for I will give you words and a wisdom that none of your opponents will be able to withstand or contradict.

16

You will be betrayed even by parents and brothers, by relatives and friends; and they will put some of you to death.

17

You will be hated by all because of my name.

18

But not a hair of your head will perish.

19

By your endurance you will gain your souls."