Mar 4, 2020
Exodus Story: Leaving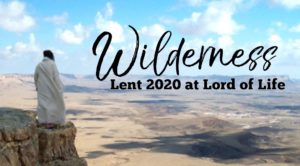 Watch
Notes
Download
Date
Title
Mar 4, 2020

Exodus Story: Leaving

Mar 4, 2020

Exodus Story: Leaving

Mar 1, 2020

Wilderness: Temptation and God's provision

Mar 1, 2020

Wilderness: Temptation and God's provision

Gospel: Matthew 4:1-11

Jesus experiences anew the temptations that Israel faced in the wilderness. As the Son of God, he endures the testing of the evil one.

1Jesus was led up by the Spirit into the wilderness to be tempted by the devil. 2He fasted forty days and forty nights, and afterwards he was famished. 3The tempter came and said to him, "If you are the Son of God, command these stones to become loaves of bread." 4But he answered, "It is written, 'One does not live by bread alone, but by every word that comes from the mouth of God.' " 5Then the devil took him to the holy city and placed him on the pinnacle of the temple, 6saying to him, "If you are the Son of God, throw yourself down; for it is written, 'He will command his angels concerning you,' and 'On their hands they will bear you up, so that you will not dash your foot against a stone.' " 7Jesus said to him, "Again it is written, 'Do not put the Lord your God to the test.' " 8Again, the devil took him to a very high mountain and showed him all the kingdoms of the world and their splendor; 9and he said to him, "All these I will give you, if you will fall down and worship me." 10Jesus said to him, "Away with you, Satan! for it is written, 'Worship the Lord your God, and serve only him.' " 11Then the devil left him, and suddenly angels came and waited on him.

Feb 16, 2020

Got Milk?

Feb 16, 2020

Got Milk?

1 Corinthians 3:1-9

Human leaders in the church are not the ones who control ministry. Rather they are coworkers who belong to God, the one who truly controls and continuously empowers the ministry of the church. 1

Brothers and sisters, I could not speak to you as spiritual people, but rather as people of the flesh, as infants in Christ.

2

I fed you with milk, not solid food, for you were not ready for solid food. Even now you are still not ready,

3

for you are still of the flesh. For as long as there is jealousy and quarreling among you, are you not of the flesh, and behaving according to human inclinations?

4

For when one says, "I belong to Paul," and another, "I belong to Apollos," are you not merely human?

5

What then is Apollos? What is Paul? Servants through whom you came to believe, as the Lord assigned to each.

6

I planted, Apollos watered, but God gave the growth.

7

So neither the one who plants nor the one who waters is anything, but only God who gives the growth.

8

The one who plants and the one who waters have a common purpose, and each will receive wages according to the labor of each.

9

For we are God's servants, working together; you are God's field, God's building.

Jan 12, 2020

Baptism: Training for the Life of Faith

Jan 12, 2020

Baptism: Training for the Life of Faith

Gospel: Matthew 3:13-17

Before Jesus begins his ministry, he is baptized by John, touched by the Spirit, and identified publicly as God's child. 13Then Jesus came from Galilee to John at the Jordan, to be baptized by him. 14John would have prevented him, saying, "I need to be baptized by you, and do you come to me?" 15But Jesus answered him, "Let it be so now; for it is proper for us in this way to fulfill all righteousness." Then he consented. 16And when Jesus had been baptized, just as he came up from the water, suddenly the heavens were opened to him and he saw the Spirit of God descending like a dove and alighting on him. 17And a voice from heaven said, "This is my Son, the Beloved, with whom I am well pleased."

Dec 22, 2019

Hold On!

Dec 22, 2019

Hold On!

Gospel: Matthew 1:18-25

Matthew's story of Jesus' birth focuses on the role of Joseph, who adopts the divinely-begotten child into the family of David and obediently gives him the name Jesus, which means "God saves." 18

Now the birth of Jesus the Messiah took place in this way. When his mother Mary had been engaged to Joseph, but before they lived together, she was found to be with child from the Holy Spirit.

19

Her husband Joseph, being a righteous man and unwilling to expose her to public disgrace, planned to dismiss her quietly.

20

But just when he had resolved to do this, an angel of the Lord appeared to him in a dream and said, "Joseph, son of David, do not be afraid to take Mary as your wife, for the child conceived in her is from the Holy Spirit.

21

She will bear a son, and you are to name him Jesus, for he will save his people from their sins."

22

All this took place to fulfill what had been spoken by the Lord through the prophet:

23

"Look, the virgin shall conceive and bear a son, and they shall name him Emmanuel," which means, "God is with us."

24

When Joseph awoke from sleep, he did as the angel of the Lord commanded him; he took her as his wife,

25

but had no marital relations with her until she had borne a son; and he named him Jesus.