We're so grateful to the Lord for His continued goodness and divine care as He has promised to be with us in all circumstances and situations (see Psalm 46:1–3).
As we move toward resuming in-person attendance at worship, we will be focusing on safety in every decision.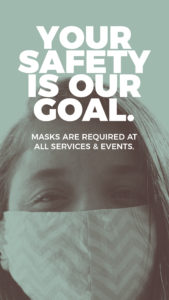 As we wait for Montgomery County COVID data to show a consistent decline in infection over 14 days, we have suspended the first in-person worship indefinitely. In the meantime, we will continue to record services and make them available in various on-line venues. You can continue to access these via the church website, Facebook and the Boxcast app. We will consider adding services only when infection data indicates it is safe to do so. Phase 1 will be an 8:20am worship. Phase 2 will be a service at 11:05am.
We will continue to stream our worship services online. This provides an opportunity for anyone in an "elevated risk" group (age, medical condition, etc.) to continue to "attend" without being physically present in the sanctuary.
When we resume in-person services there will be procedures in place to enhance everyone's safety. We will follow rules issued by state and local governments regarding the number of people in the building. (Subect to change without notice.)
Initially, we will use only 25% of the sanctuary seating capacity, thus totaling 94 attendees, including leaders of worship and music.
We will have a "reservation" system set up in Realm that can be accessed at the website. Anyone wishing to attend these first services will need a confirmed reservation to enter the building. The reservations are on a space available basis and a phone number and email address will be required before the reservation is confirmed. This is needed to "track and trace" people in the event that anyone tests positive for the virus after attending a service. Ushers will verify the reservation.
The most important guideline is, "if you are not feeling well, please stay home." This is regardless whether the symptoms are those of COVID-19. Seek medical care, call 911 if necessary
Everyone seeking to enter the building will receive a no-touch temperature scan to check for fever. Entry allowed only if temperature does not exceed 100.4 F. Face masks will be required, with masks provided for anyone who does not have one.
There will be bottle(s) of hand sanitizer at sanctuary entry, in every pew and in other areas. That will be the only thing in each pew — all bibles, hymnals, attendance sheets will be removed.
There will be one entry and exit door for the building, both clearly marked. Also, there will be roped off space/separated walkways.
Inside the building, we will maintain the now familiar 6-foot distancing by taped markings on the floor, alternating the pews in use and taping 6-foot marks in the pews. Vacant pews will be designated with masking tape across the entry points.
Offering Plates at doors – no offerings collected by ushers
There will be no handshake at "Sharing of the Peace."
"Bring your own Communion elements." Those wishing to receive Communion should bring their own communion elements, which will be consecrated at the usual time during the service. Then communion will be self-administered or by an immediate family member in your group.
No coffee service; and Keurigs are labeled "Out of Use for Safety Purposes."
The kitchen is closed, and there is no nursery care for children
The Conference Room is the isolation room if someone becomes ill while at church. Sick people will be asked to go home or if unable, a 911 call will be placed for them.
For sanitizing purposes, available restrooms are limited to the first floor – one family at a time; Please use sanitizer to clean all areas you use in the restrooms before leaving
If a member contracts COVID, we request they call church office and self-report. They then must self-quarantine for 14 days. This is exceedingly important if the first symptoms appear within 14 days of having attended a service.
We are here for you! If you need anything, call the church office at 281-367-7016 to talk with one of our pastors or to share your prayer requests.
In the coming days and weeks, as the situation evolves and regulations change, we will provide additional updates. We pray God continues to give you a spirit of peace, increase your faith, and provide for your every need.