WORSHIP AND THE ARTS
Dan Fenn, Director of Worship and the Arts
Dfenn@lordoflifeonline.org
Would you like to sing in the Lord Of Life Choir? We are looking for singers in all ranges. You must be able to read music. Rehearsals are held on Tuesday evenings at 7:30. The choir sings in Sunday worship at either the 8:20 or the 11:05 service.
For some special events, there are additional rehearsals called as needed. Contact Tammy Fincher at TFincher@lordoflifeonline.org for more information or attend a rehearsal.
VOLUNTEER OPPORTUNITIES WITH WORSHIP & THE ARTS:
Lord Of Life Choir – Adult vocal ensemble leads Sunday worship (alternately 8:20 & 11:05am) and special services, sharing the message of faith in song. Practice Tuesdays at 7:30 pm.
New Life Choir – Contemporary worship team involves vocalists and instrumentalists to lead New Life (Modern Praise) worship at 9:45am each Sunday. Practice Tuesdays at 6:30pm.
Acolytes – Light the altar candles and assist the pastors in worship. For kids 7th-8th grade
Altar Guild – Prepares communion and the paraments before each service.
Communion Assistants – Bring the wine and bread to the altar and help the pastor distribute them to worshippers.
Assisting Ministers – Read portions of scripture, offer prayers, and assist the pastors in worship services.
Audio/Visual Volunteer Team – Ensure the quality of sound during worship and record services for web audiocast.
Ushers – Distribute worship folders, collect the offering, and assist in directing worshipers to communion.
Worship Planning – Faithfully and imaginatively bring scriptural text alive, Invite the meaningful participation of everyone present in worship
Bells of Life Handbell Choir is open to anyone interested in ringing handbells, from 7th grade through adults. Rehearsals are Monday evenings, 6:30-7:15. Please call Sarah at 281-210-7024 if you have questions.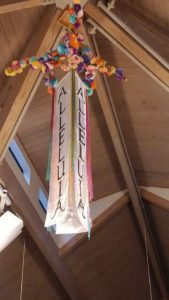 The Liturgical Arts Team
plans the seasonal accents for the sanctuary, and banner making sessions are held to prepare the banners. The banner making sessions are a great time for fellowship and the only skills needed are the ability to cut or iron fabric. If you are interested in being a part of this ministry, please contact Kathy Gaskamp (kathy.gaskamp@att.net)
Altar Flowers
Please sign up at the welcome desk or online The cost is $60. The church office orders the flowers and will remind you when it is your week. Honor that special birthday or anniversary in your life.